MAKING YOU SOMETHING THAT MEANS SOMETHING
Your wedding day is the one occasion, were you want to look and feel incredible.
It's important to us, that we help capture a brides personality when designing their dream dress. It might be your flamboyant and cheeky side or maybe that you are more quiet, yet romantic.
Each Bride is unique.
Our DRESSES
We only use the best materials when working on our dresses. From the finest French lace to the elegant and desirable Swarovski crystals. Everything is made in house and with all the care and attention required to make the dress as special as it can be.
Patterns are crafted to each brides measurements and a calico toile (mock up) is made before cutting into fabrics. We pride ourselves on getting the perfect fit for your garments. Each measurement is unique to you, just like your finger print.
OUR SERVICE
In your initial consultation, we discuss the special occasion and what your looking for. We help guide you through the design and selection process ensuring we listen to your wishes and wants. Everything is sketched out with out head designer Charlotte.
During your first fit, your garments really start to come to life! We check the fit and discuss the detailing to make collection day the most magical appointment of them all.
On average we see people five times through the whole process. Sometimes more, sometimes less.
Finally, the best part, the collection. A unique dress is ready and yours for your special day.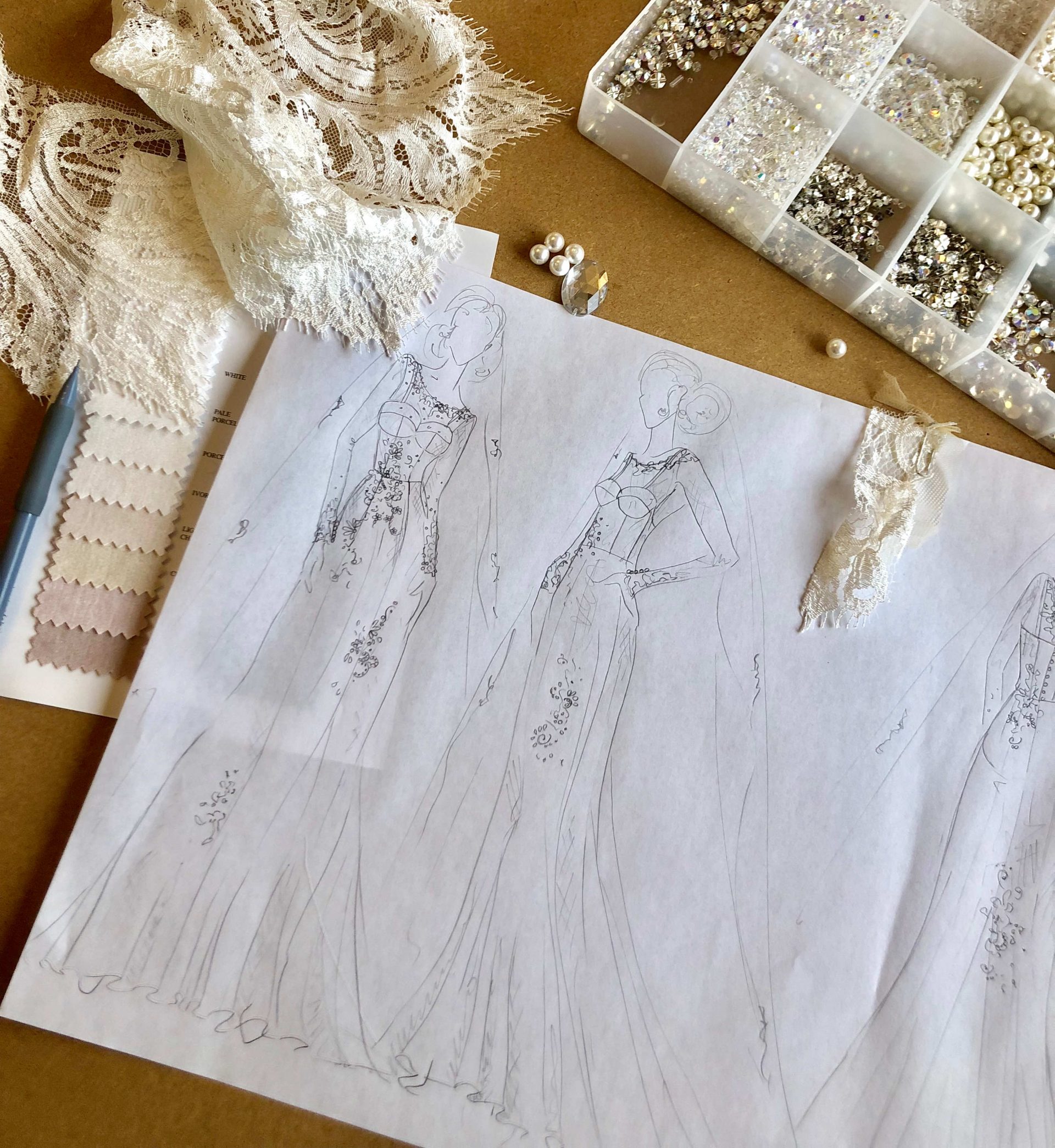 THE PEOPLE BEHIND THE DRESS
Our team at Charlotte Swan have a vast amount of knowledge and experience in the bridal and occasion wear industry.
Charlotte swan, the founder, previously worked for award winning designer, Angela Vickers, for over 7 years and after Angela's retirement, Charlotte set up her own label.
Charlotte has always had a passion for being creative. 'I want to make the ordinary, extraordinary. With a textiles and costume background and over 10 years experience in designing and making bridal and occasion wear dresses, I really couldn't imagine doing anything else. Weddings are my favourite topic!'
'I love capturing something that can spark the imagination. Being able to pick up a pencil and lay marks down on paper to show my clients what we can do.'
'I have always been tactile. I get excited about texture, stitch and embellishment. I have great relationships with my fabric and lace suppliers and have the latest fabrics and laces to showcase to my clients.'
Ellena, our Techincal Designer, has always wanted to create something that has a true purpose. She started sewing as a small child and is hugely passionate about everything she makes. 'It's the one thing I was always good at. I love to make something from scratch. I can't bear the waste we now see from fast fashion market. Mass produced items just aren't made with the care and quality they should be.'
OUR ATELIER
Charlotte Swan
By Appointment Only
The Sawmill
Owthorpe
Nottinghamshire
NG12 3GE

Our bright and airy Atelier is based in the stunning Nottinghamshire countryside. The perfect setting for your wedding dress experience. We are close to the A46, making it easy for you drop in. Who wants to struggle with town parking?

Why not visit us and then pop to The Little Retreat for a post appointment manicure?

We look forward to welcoming you for a private, one to one consultation. Let us be a part of making you look and feel incredible on your special day.
Contact Us
Leave us a message and one of us will be in touch